If you were God, and you wanted people to know of your love and your care for them, if you wanted to save them from their hard-heartedness and selfishness, how would you come to them?
I think most humans would come with power, or well-articulated reason. Something intellectual, perhaps, or compelling. We would come with a desire to convince and cajole people to do what we want.
God doesn't come to us in any of these ways.
God comes to us as a baby.
A baby for whom there's no room.
A baby wrapped in rags and laying in a cold, dark cave where the animals are kept.
God comes to us in vulnerability with an invitation: to love. An invitation to be purely loved. And to be cared for. And to care for God.
This Advent season and this Christmas season I hope that you will join me in considering the ways in which we offer that same gift to the world. Not with our power or our well-articulated arguments. But with our care and our compassion and our own vulnerability.
And our willingness to receive and to give love. The purity of love.
It isn't really about the gifts or the gatherings. It's about the relationships. The relationships that inspire us and and embolden us. The relationships that heal us. And yes, the relationships that may challenge us.
But always God's love: calling us, healing us, redeeming us and renewing us. That we might not only find relationship with God, but relationship with one another.
Blessings during this Advent and Christmas season. May the redeeming and vulnerable love of God heal you, inspire you, and lead you on.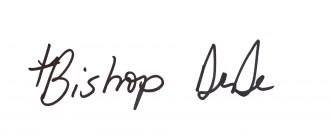 The Rt. Rev. Dr. DeDe Duncan-Probe
Bishop of Central New York