Dear People of Central New York:
In this sacred Holy Week, we journey with Jesus through his last meal with friends, his prayer and lamentation in the garden, his suffering and passion, his death on the cross, and ultimately to that Easter moment when God's love and mercy transform even death itself.
This is a challenging time in the life of our world. Stories of suffering, violence, isolation, and brokenness are daily companions. Our communities are increasingly divided, unable to abide difference and disagreement. This very week, in the midst of Passover and Holy Week, a Jewish community center and a church near Washington, DC were vandalized with messages of hate, intolerance and fear. Facing such situations, how can we refuse the temptation of isolation and division and continue to reach out to others?
The Rev. Dr. Martin Luther King, Jr. said, "Love is the only power strong enough to make a friend out of an enemy." Our Christian call is determined not by what is done to us, but by our response: our best, next choice. The truth of our faith will best be expressed in the question, "How will we offer the resurrected love of Jesus Christ in this situation?"
On Ash Wednesday, I asked how you envisioned your life changing as a result of your Lenten practice. I hope your Lenten journey has renewed your faith and given you hope and courage to share the love of God with each person, in every situation you encounter. This Easter, I pray we will all go forth as a people willing to choose love and forgiveness over fear and hatred; as a people who seek and serve others, disregarding division, in the name of our Resurrected Lord Jesus Christ. May the reality and power of God's love transform you and fill you with the bold, active faith for which our world longs.
St. Augustine said, "We are resurrection people and alleluia is our song." Easter blessings to you as you share God's life-giving song with the world.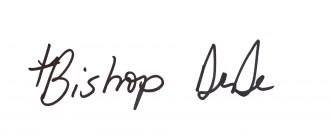 The Rt. Rev. Dr. DeDe Duncan-Probe
Bishop of Central New York
article courtesy of the Diocese of Central New York